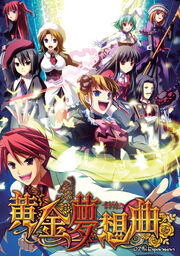 Ōgon Musōkyoku (黄金夢想曲?, lit. "Golden Fantasia"), is a fighting game developed and published by 07th Expansion. It is considered a side spin-off of the Umineko no Naku Koro ni murder visual novel series. It was released on December 31st, 2010 for 3,000 yen (approx. $35) at C79 for the PC.
The game was ported to the Xbox 360 by Alchemist under the X subtitle.
A fan translation is currently being undertaken by Iwakura Productions.
An expansion for PC was released on December 31st, 2011, titled Ōgon Musōkyoku CROSS
Characters
Playable Characters
360 version:
CROSS expansion:
Spring 2012 patch:
Sub-Characters
Related Media
Main article: Ougon Musou Kyoku (manga)
A manga adaptation of the game illustrated by Junka Morozumi began serialization in the December 2011 issue of Kadokawa Shoten's Comp Ace magazine.
Trivia
External Links
Ad blocker interference detected!
Wikia is a free-to-use site that makes money from advertising. We have a modified experience for viewers using ad blockers

Wikia is not accessible if you've made further modifications. Remove the custom ad blocker rule(s) and the page will load as expected.