Visual Novels in Release Order
Featured Article
The daughter of Rudolf and and his current wife, Kyrie, Ange is Battler Ushiromiya's younger sister. She couldn't come to Rokkenjima due to sickness. After the incident on Rokkenjima, Ange is placed under the care of her last living relative Eva Ushiromiya. She attends St. Lucia's Academy and is hated by Eva. In the world of 1998, she inherits the family headship and becomes the final Beatrice, Ange-Beatrice. She seeks to uncover the truth behind the events of Rokkenjima, even at the cost of her life.

Read more...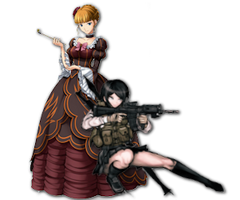 Visual Novel Games
Go to these sites for info or for help with your own wiki!
Ace Attorney • AliceSoft • Danganronpa • Date A Live • Higurashi no Naku Koro ni • Steins;Gate • TYPE-MOON • Umineko no Naku Koro ni • Zero Escape
Want your community included? See how!