This wiki contains unmarked spoilers. Read at own risk.
Visual Novels in Release Order
News
MangaGamer had announced during Anime Expo 2015 that it'll release a Steam version of Umineko-When They Cry. This version will feature an updated English translation of Witch Hunt, new sprites and the full original soundtrack. MangaGamer's 7th Expansion site can be found here.
UPDATE: The release date was setted on July 08. Please visit MangaGamer's site or its steam page.
Featured Article
Requiem of the Golden Witch, a former first-class archbishop and Chief Inquisitor of SSVD. A young ace inquisitor once feared by witches for his cold and ruthless tactics, he gained the nicknames "Wright of the Twenty Wedges" and "Wizard-Hunting Wright". Over time, however, he grew malcontent with SSVD's brutal standards and resigned from his position.

Read more...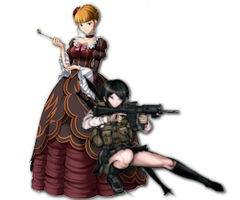 Visual Novel Games
Go to these sites for info or for help with your own wiki!
Ace Attorney • AliceSoft • Dangan Ronpa • Date A Live • Hatoful Boyfriend • Saya no Uta • Steins;Gate • TYPE-MOON • Umineko no Naku Koro ni
Want your community included? See how!