Home
Talk

6
279pages on
this wiki
This wiki contains unmarked spoilers. Read at own risk.
If you find any mentions of "Siesta" please correct to Chiester. Thank you
Visual Novels in Release Order
News
Umineko Pachi Slot-Machine game website now open here
Ougon Musou Kyoku has finished being translated and is available here
UmiTweak announced that there will be a new HQ Patch for Rondo of the Witch and Reasoning More information here
Featured Article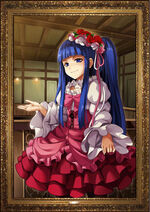 A young detective introduced in End of the Golden Witch. A blue-haired girl estimated by Genji Ronoue to be around Jessica Ushiromiya's age. She is characterized as being highly intelligent and possessing an excellent memory. She acts very polite in public, and shows an extreme interest in puzzles and mysteries. In truth, she is ruthless and cunning, and only solves mysteries to boast her superiority towards those who execute them. She does, however, possess a serious inferiority complex, and is prone to breaking down emotionally whenever things don't go her way.

Read more...