This wiki contains unmarked spoilers. Read at own risk.
Visual Novels in Release Order
News
MangaGamer had announced during Anime Expo 2015 that it'll release a Steam version of Umineko-When They Cry. This version will feature an updated English translation of Witch Hunt, new sprites and the full original soundtrack. MangaGamer's 7th Expansion site can be found here.
UPDATE: The release date was setted on July 08. Please visit MangaGamer's site or its steam page.
Featured Article
The original "Beatrice" and previous Endless Witch before the more well known Beatrice, Virgilia is the name assumed by this character after passing her name and title to her student. Her name comes from the Divine Comedy character Virgil, who guides Dante through Hell and Purgatory to Beatrice, who is his guide through Heaven. A powerful witch in her own right, she is Beatrice's teacher and possesses a connection to Chiyo Kumasawa.

Read more...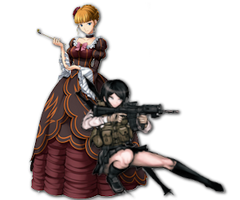 Visual Novel Games
Go to these sites for info or for help with your own wiki!
Ace Attorney • AliceSoft • Danganronpa • Date A Live • Higurashi no Naku Koro ni • Steins;Gate • TYPE-MOON • Umineko no Naku Koro ni
Want your community included? See how!

Ad blocker interference detected!
Wikia is a free-to-use site that makes money from advertising. We have a modified experience for viewers using ad blockers

Wikia is not accessible if you've made further modifications. Remove the custom ad blocker rule(s) and the page will load as expected.