Visual Novels in Release Order
Featured Article
The daughter of Rosa Ushiromiya, her father is unknown. Her childish behavior often frustrates her mother. She has no concern whatsoever for studies or friends; however, she shows a strong interest for the occult, black magic and such and memorizes as many inconsistent bits and pieces of information with her natural gift of memorization. A little apprentice magician who inherited the black blood from Kinzo, despite her youth, she possesses a natural talent that Kinzo lacked. Her powers may be weak, but her enchanting ability to give magical power to tools is a natural gift, and the magical items she makes are a match even for the master class.

Read more...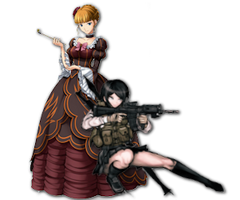 Visual Novel Games
Go to these sites for info or for help with your own wiki!
Ace Attorney • AliceSoft • Danganronpa • Date A Live • Higurashi no Naku Koro ni • Steins;Gate • TYPE-MOON • Umineko no Naku Koro ni • Zero Escape
Want your community included? See how!

Ad blocker interference detected!
Wikia is a free-to-use site that makes money from advertising. We have a modified experience for viewers using ad blockers

Wikia is not accessible if you've made further modifications. Remove the custom ad blocker rule(s) and the page will load as expected.