Visual Novels in Release Order
Featured Article
Beatrice is the main antagonist and protagonist of the Umineko no Naku Koro ni series. She clashes with Battler Ushiromiya, trying to convince him that witches are real and that she used magic to execute a series of bizarre murders on the island of Rokkenjima. She has lived for over a thousand years. She has already strayed from the domain of humans, and it is said that as demons do, she appears when summoned by a human and lends him her power for a compensation of equivalent value. The things she likes are black tea and ice cream. The things she hates are boredom and people who deny her.

Read more...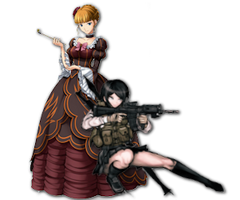 Visual Novel Games
Go to these sites for info or for help with your own wiki!
Ace Attorney • AliceSoft • Danganronpa • Date A Live • Higurashi no Naku Koro ni • Steins;Gate • TYPE-MOON • Umineko no Naku Koro ni • Zero Escape
Want your community included? See how!

Ad blocker interference detected!
Wikia is a free-to-use site that makes money from advertising. We have a modified experience for viewers using ad blockers

Wikia is not accessible if you've made further modifications. Remove the custom ad blocker rule(s) and the page will load as expected.