Home
Talk

6
279pages on
this wiki
This wiki contains unmarked spoilers. Read at own risk.
If you find any mentions of "Siesta" please correct to Chiester. Thank you
Visual Novels in Release Order
News
Umineko Pachi Slot-Machine game website now open here
Ougon Musou Kyoku has finished being translated and is available here
UmiTweak announced that there will be a new HQ Patch for Rondo of the Witch and Reasoning More information here
Featured Article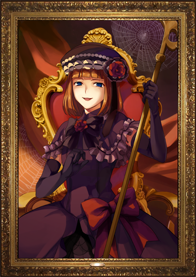 Originally some sort of inner being in Eva Ushiromiya, she became a witch after Eva solved the riddle of the Epitaph. She was recognized as Beatrice's successor, and was extremely cruel. She often used her powers to kill and resurrect people multiple times (usually in brutal ways) before finishing them off. She is sometimes referred to in the text as "The Cruel Witch", and later on, "The Black Witch". She is the main antagonist in Banquet of the Golden Witch.

Read more...