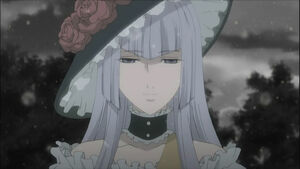 Chatellerault is here because she thinks Beatrice and Virgilia's outfits are awesome. Eva's outfit is pretty cool too, and she doesn't mind Ange, Rosa, Clair Vaux Bernardus or Maria's either. Natsuhi's skirt is pretty nice though she don't like the rest of her outfit. Looks... stuffy.
Sorry guys, most of your clothes are boring. Except you, Will, but that's because you have a trench-coat and you're a way better detective than Battler or Erika.
On the other hand, she thinks Lambdadelta looks like she had her Halloween candy haphazardly glued onto her dress.